Introducing Future Tools
Over the past few months I've grown an unhealthy obsession for these AI tools that literally everyone is talking about. So much so that I started building a spreadsheet of all of my favorite tools as I came across them.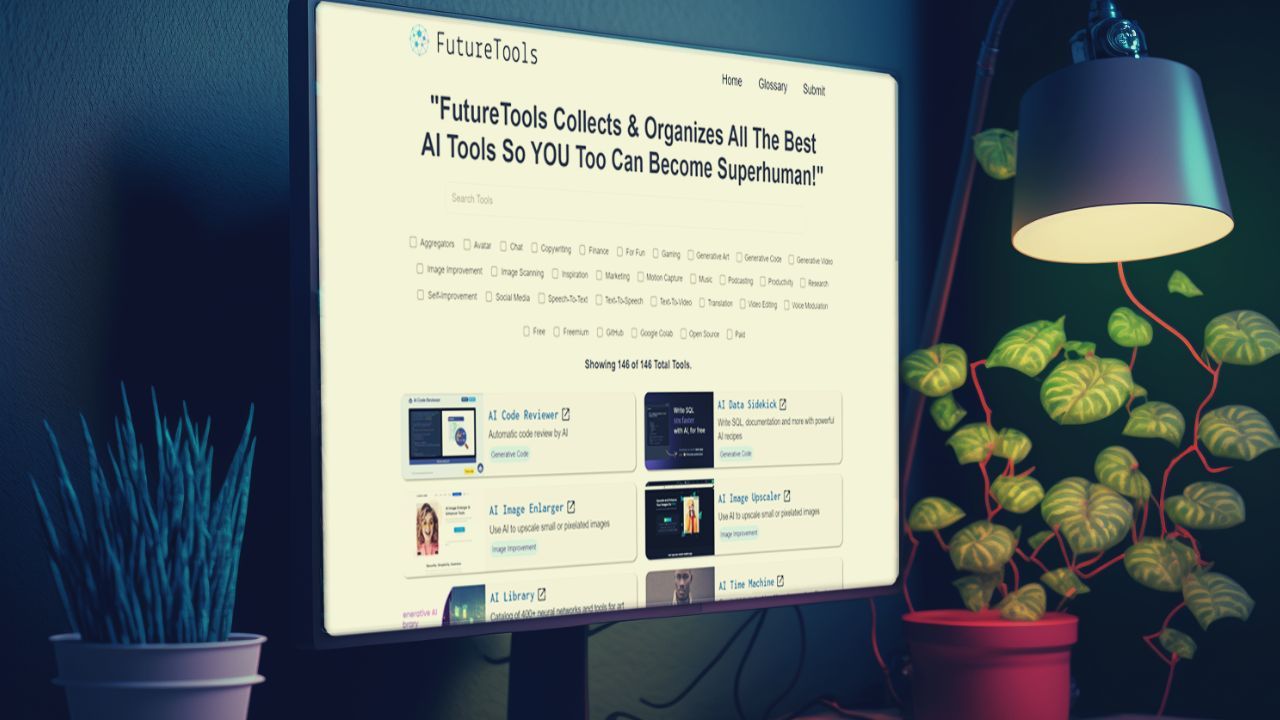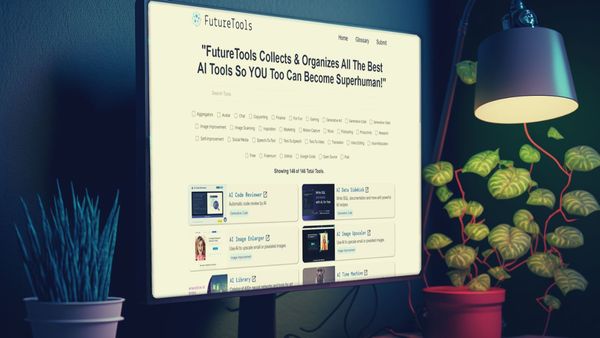 I've been working behind the scenes on something that I think you will find very useful.
Over the past few months I've grown an unhealthy obsession for these AI tools that literally everyone is talking about. So much so that I started building a spreadsheet of all of my favorite tools as I came across them.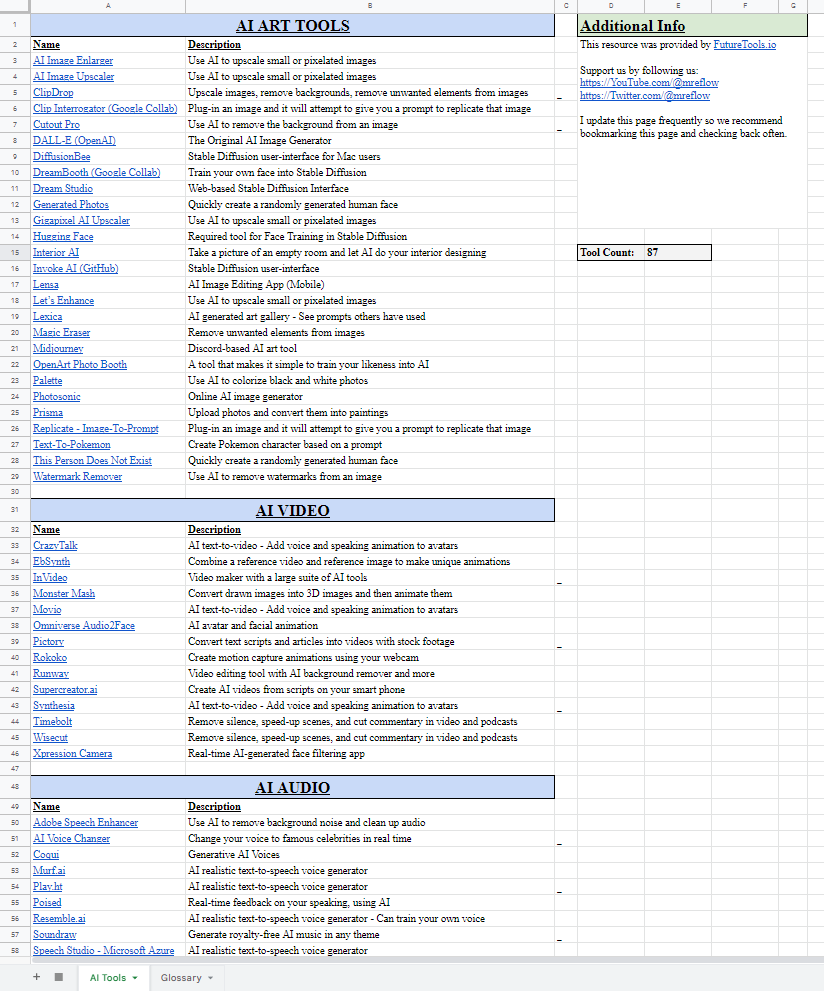 Over time, the spreadsheet became very full and it was hard to find the exact tool that I was looking for.
During this same time, I also became infatuated with various "no-code" tools, platforms where you can build websites and applications without needing to do any coding.
One weekend, I decided to put my head down and really learn one tool in particular, WebFlow. With WebFlow, I was able to convert my Google Sheet into a database and, with a tiny bit of coding and a TON of YouTube tutorials, I managed to build search functionality, sorting functionality, and a data scrapper to pull in all the information about the various tools automatically.
FutureTools.io was born.
It really started as a weekend project to learn WebFlow and develop a new skill.
I thought it was pretty cool and started going to it often myself to find a specific tool. I decided to share it on Twitter and well, let's just say the people of Twitter liked it as well.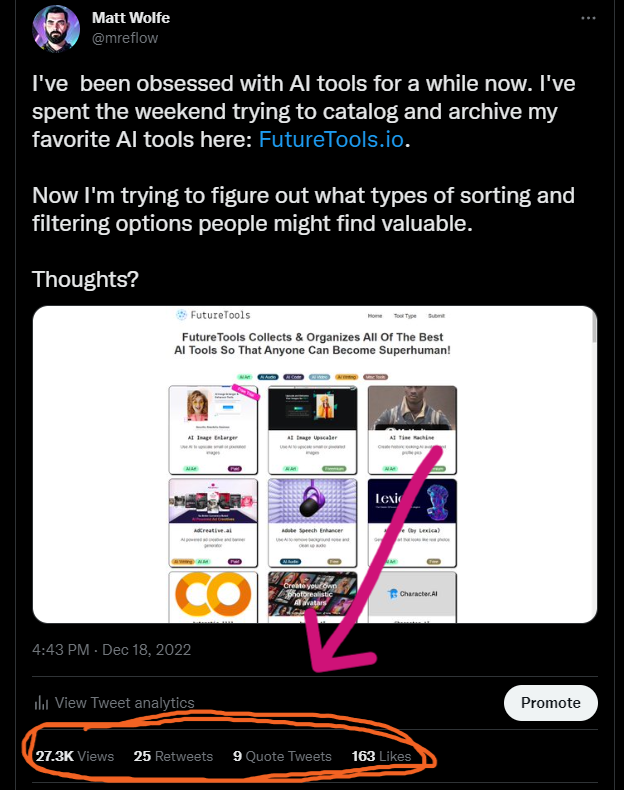 I then took it to Facebook and shared it there as well (after a little additional redesigning). It got some love there as well...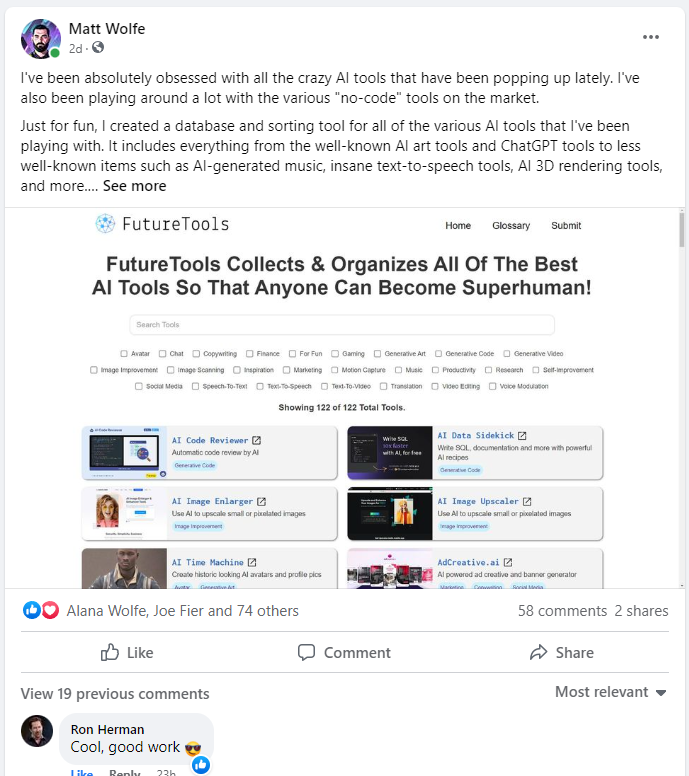 I didn't get as much love on Facebook as I did on Twitter... Maybe that's because it was the first time I'd logged-in in months. However, what I did get was feedback.
Now, it was never my intention to actually turn this into anything more than just a database of cool tools that I wished I'd had earlier on. However, the validation that I received on social media so far encouraged me to continue to iterate and build upon the app.
At the moment, I still have no idea how I'm going to monetize the site. A handful of the links on the site are affiliate links but we're talkin' maybe 15 links out of almost 150 (as of the time of writing this). So I'm not expecting that to be a huge revenue stream from the site.
Seeing the love that I was getting for this app did make me think, "maybe I should focus on showing off and talking about tools." I can sort of reinvent myself as the "AI tools guy" for digital marketers.
On my personal YouTube channel, I began making videos about various AI tools, and they began outperforming my previous videos. I then went back through my previous videos and discovered that almost every single video that did well on my channel was when I walked people through a cool tool.
I started writing Tweets about AI tools and was getting tons of traction with them.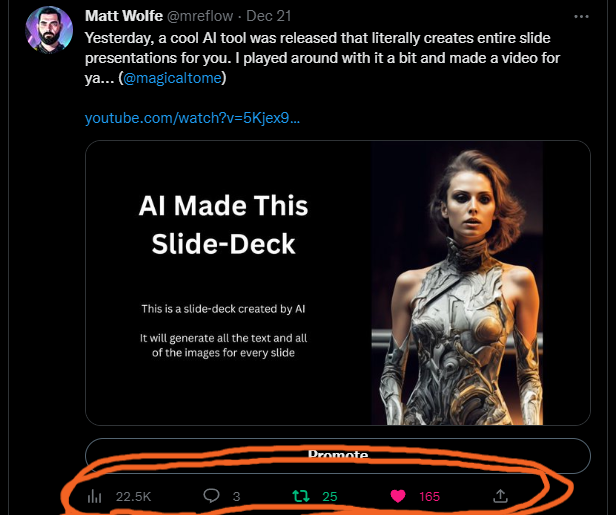 I feel like I found my niche.
So here's my plan for 2023...
Continue to update FutureTools.io on a daily basis with new tools that come across my radar.
Create weekly videos for YouTube around various tools (my site has unlimited inspiration for video ideas)
Tweet daily about cool tools that I stumble across.
Start a podcast "The Future Tools Podcast" where I'll discuss cool tools, chat with founders and thought leaders, and share tactics for using all of this AI tech to improve your business and make money online.
Work to develop an AI tool of my own. I have some ideas and I even know how to build them. I just need to validate them first. More on that in a future post.
The monetization is not completely clear yet, but I expect to generate some decent affiliate revenue over time, increase views on YouTube to generate Adsense income, and engineer some podcast sponsorships.
On the side, I'll continue to promote my existing affiliate marketing efforts and offer my services and expertise to those who can use it to generate income while the new venture grows.
Ideally, by this time next year, the FutureTools brand, including the website, YouTube channel, and podcast, will be generating enough revenue for me to devote all of my attention to them.
For the time being, I'd appreciate it if you checked out the new site, clicked around, and experimented with some of the crazy new technology. Even better, bookmark it because it will be constantly updated.
We're entering a new era with all of this cool AI tech. It's my goal to keep anyone who's following along with me on the absolutely forefront of it all.