How to Automate Content Marketing With Designrr
One of the best use cases of Deginrr's transcription services is their ability to convert any audio or video file into written content that you can publish on your site. Convert a podcast or popular YouTube video into an ebook, blog post, or guide.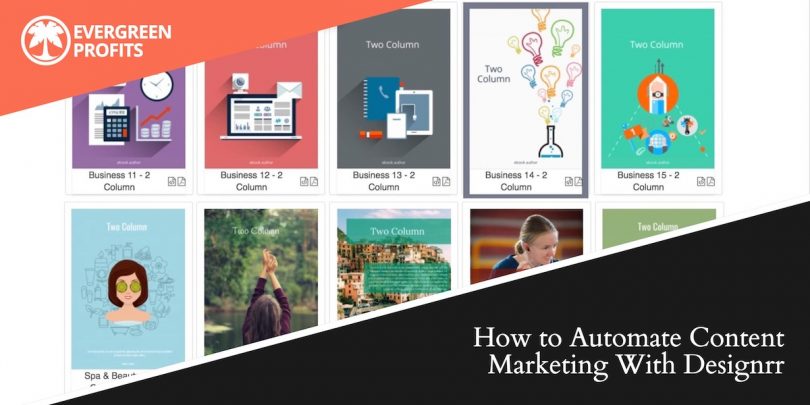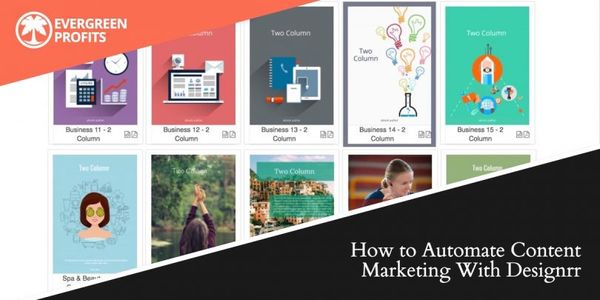 "Content Marketing is all the marketing that's left" - Seth Godin
Content marketing is an outstanding strategy to attract people to your site and build an "Iron Clad" relationship with your ideal customers.
And since most content is evergreen, you can use it to keep people coming to your site for months or years after it's created.
But, let's be honest...
Creating content is time consuming. And, for entrepreneurs and marketers on the grind, producing content can seem damn near impossible.
Yet, creating content is a core marketing pillar used to convert prospects into buyers...
"61% of consumers say that they are more likely to buy from a company that provides custom content" - dragon360.com
After a ton of trial and error we've found the Ultimate tool for Reinventing and Repurposing your content...
It's a pure Game Changer!
We've written about this incredible tool in the past, in a post called How to build SEO, grow your list, and drive more sales
However, we use it for so much more and that's why we decided to come back for Round Two!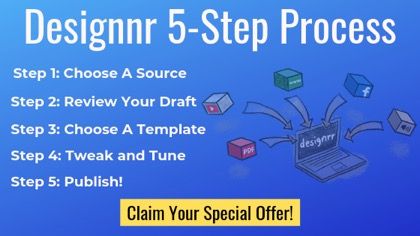 You may be thinking, "Great! So what does it do?"
Well for starters, you can use Designnr to turn audio or video files into transcripts that convert into blog posts, ebook, and lead magnets!
Think about it...
You can create a video (or take a podcast episode), then run it through Designrr to transform your content into a blog post.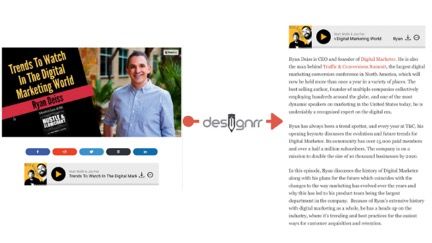 Or...
You can take a series of videos and convert them into an ebook!
In this post, we'll show you:
How to INSTANTLY convert any audio or video file into a blog post or ebook
5 of EGP's favorite ways to reinvent and repurpose content
A Must-have feature for ALL your video content (Don't skip this one!)
Convert Any Audio or Video File Into Blog posts & Ebooks instantly
One of the best use cases of Deginrr's transcription services is their ability to convert any audio or video file into written content that you can publish on your site. Convert a podcast or popular YouTube video into an ebook, blog post, or guide.
We do this with our podcast episodes, offering Cheat Sheets with some condensed tips as lead magnets.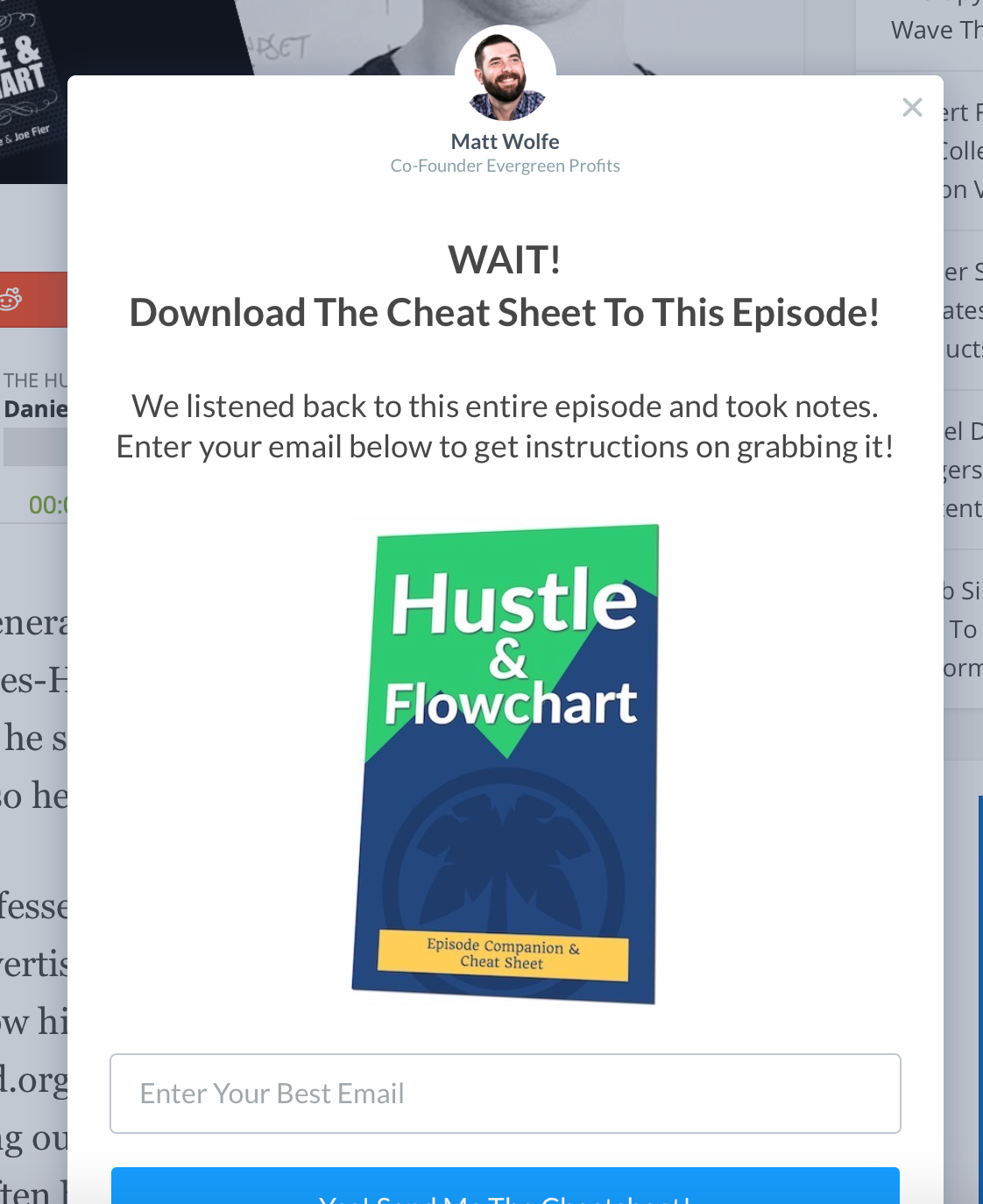 You can do this from all types of files, including YouTube, Vimeo, and Dropbox URLs, or uploads of
They don't just transcribe the audio, either; the auto-transcription is actually capable of detecting scene transitions, and they'll take screenshots of each one if you're using a video file. This will help you identify the best spots to break content up into "chapters" or sections, saving you some time.
The screenshots is a huge asset, making it easier for the content creator to see what was happening and even giving them quality screenshots they can repurpose directly into the content. It is the only tool we've ever found that can do anything like this.
Since we put an enormous amount of time and effort into our podcast, this is a must-have feature for us, allowing us to repurpose our content quickly and effectively. And now we'll show you how to use it!
How to convert audio files into content masterpieces
Using this tool is exceptionally straightforward. Get started by choosing "Import from Audio/File."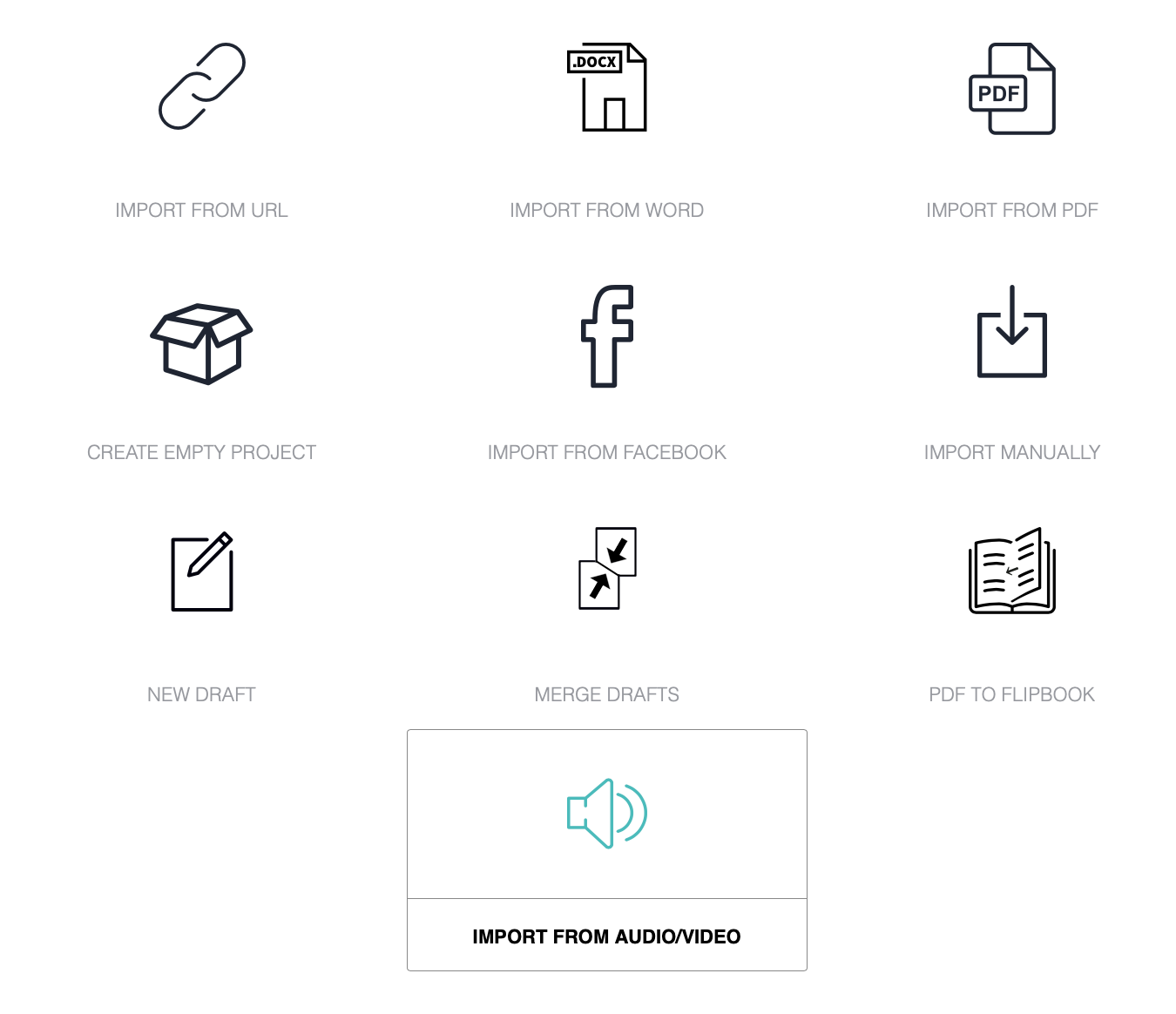 Name your project, and either upload the audio or video file, or attach a link to a URL. For this example, we'll look at converting one of our recent videos into a checklist that we could use as a lead magnet.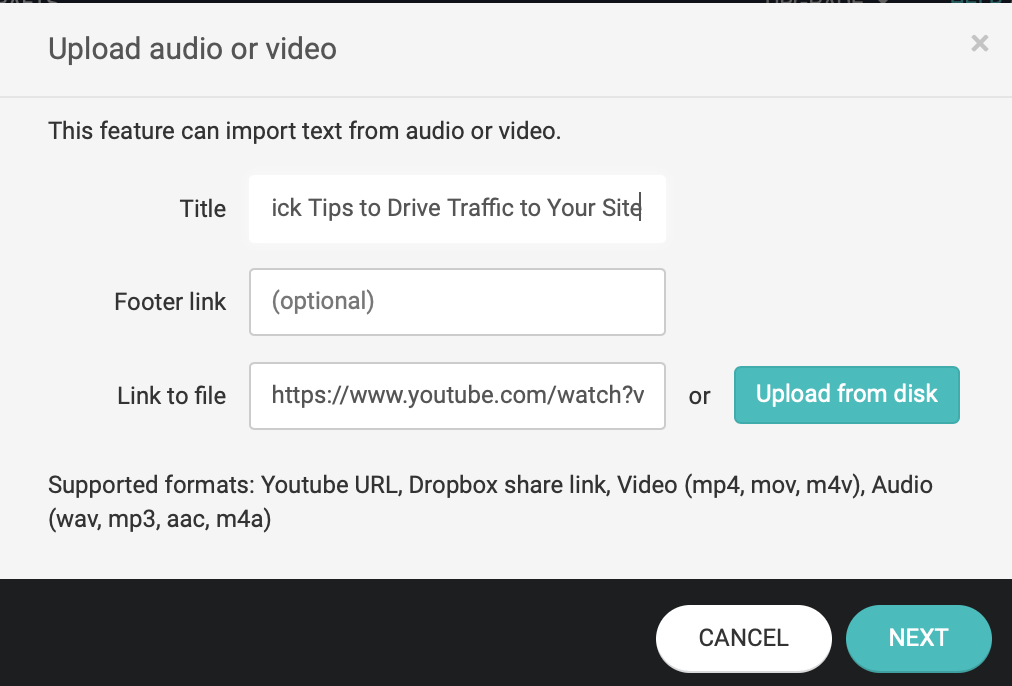 Once you upload the post, you'll be able to see the length of the video, how long it will take Designrr to transcribe it, and how many minutes of transcription you have available each month. This gives you control over the process so there's never any doubt about whether you should move forward with the project.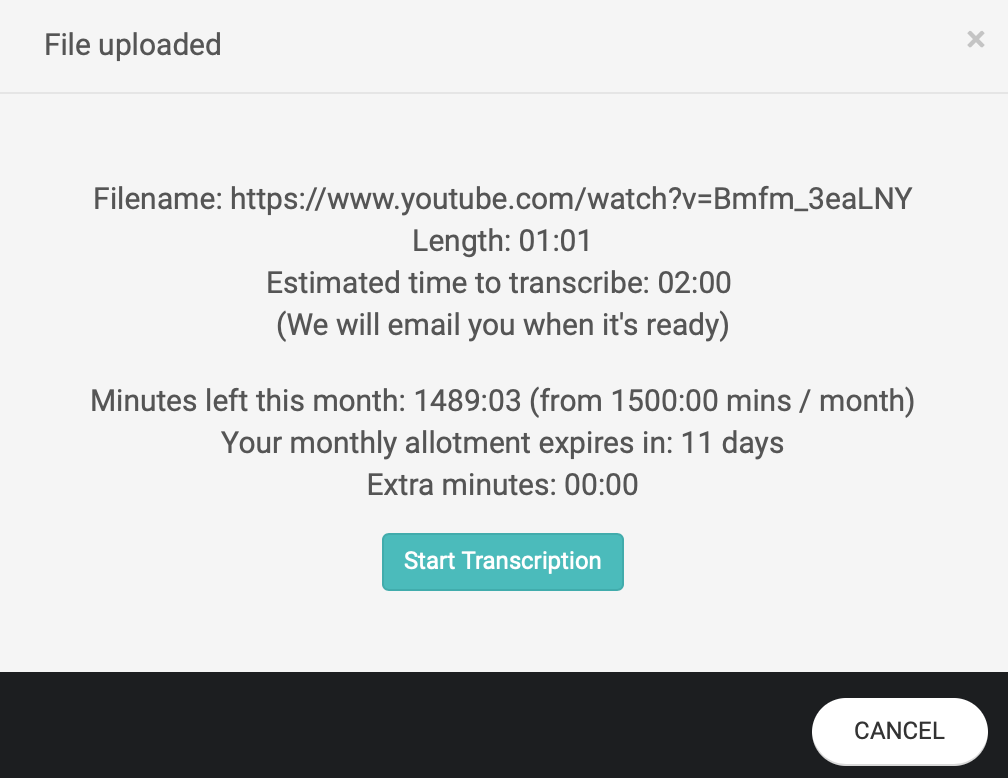 When your transcript is ready, you'll see some big blocks of text that are easy to break down. For this example, we're not going to just reuse the content exactly as it is, we'll repurpose it.
This is easy to do in the text editor. When creating a checklist, we'll break down different ideas into their own sections. Some content can be used verbatim, while others may need a little reworking to fit the new medium.
So for a lead magnet, this: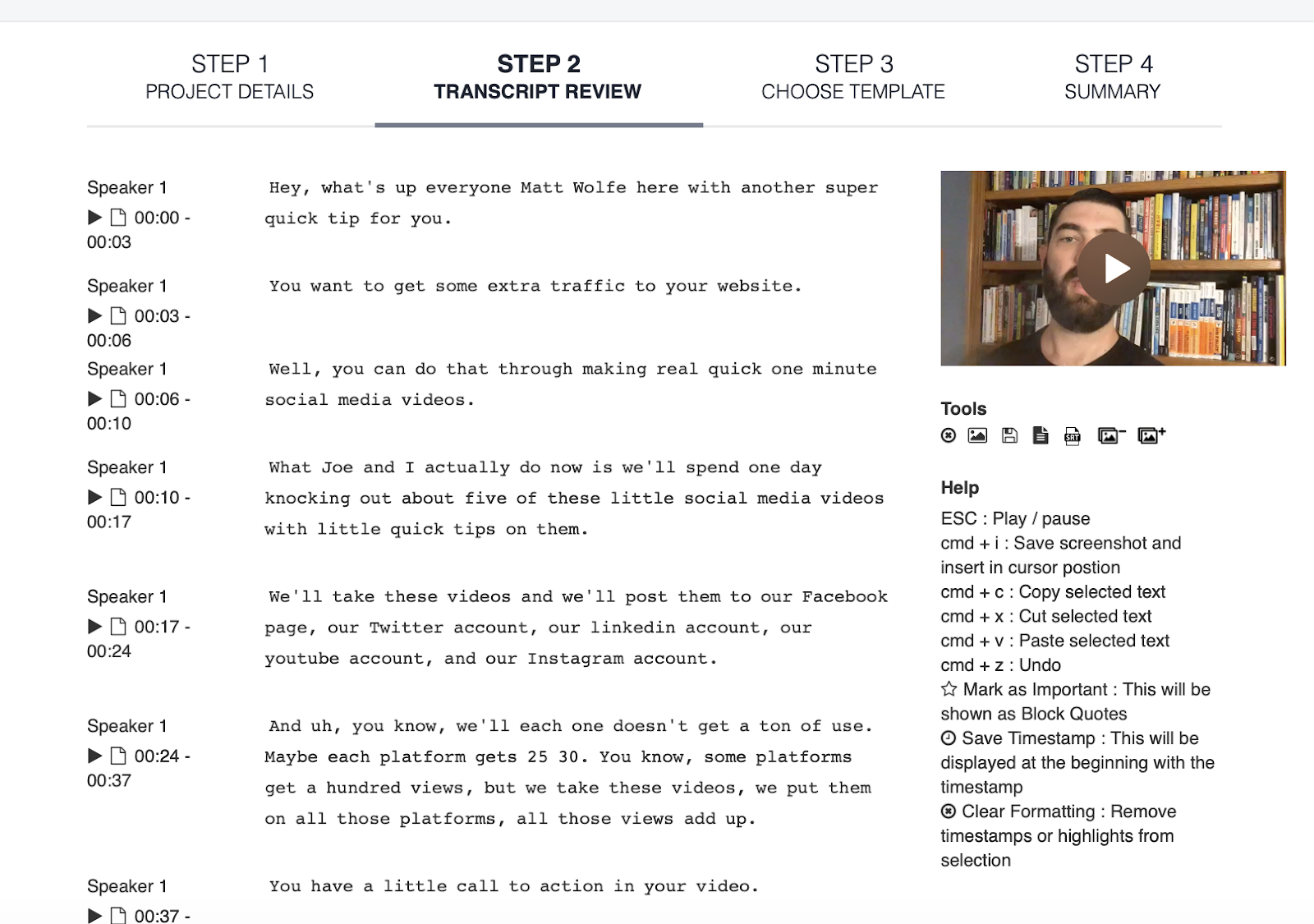 Might become this, once you customize the text in the in-app editor, which allows you to adjust formatting as your heart desires: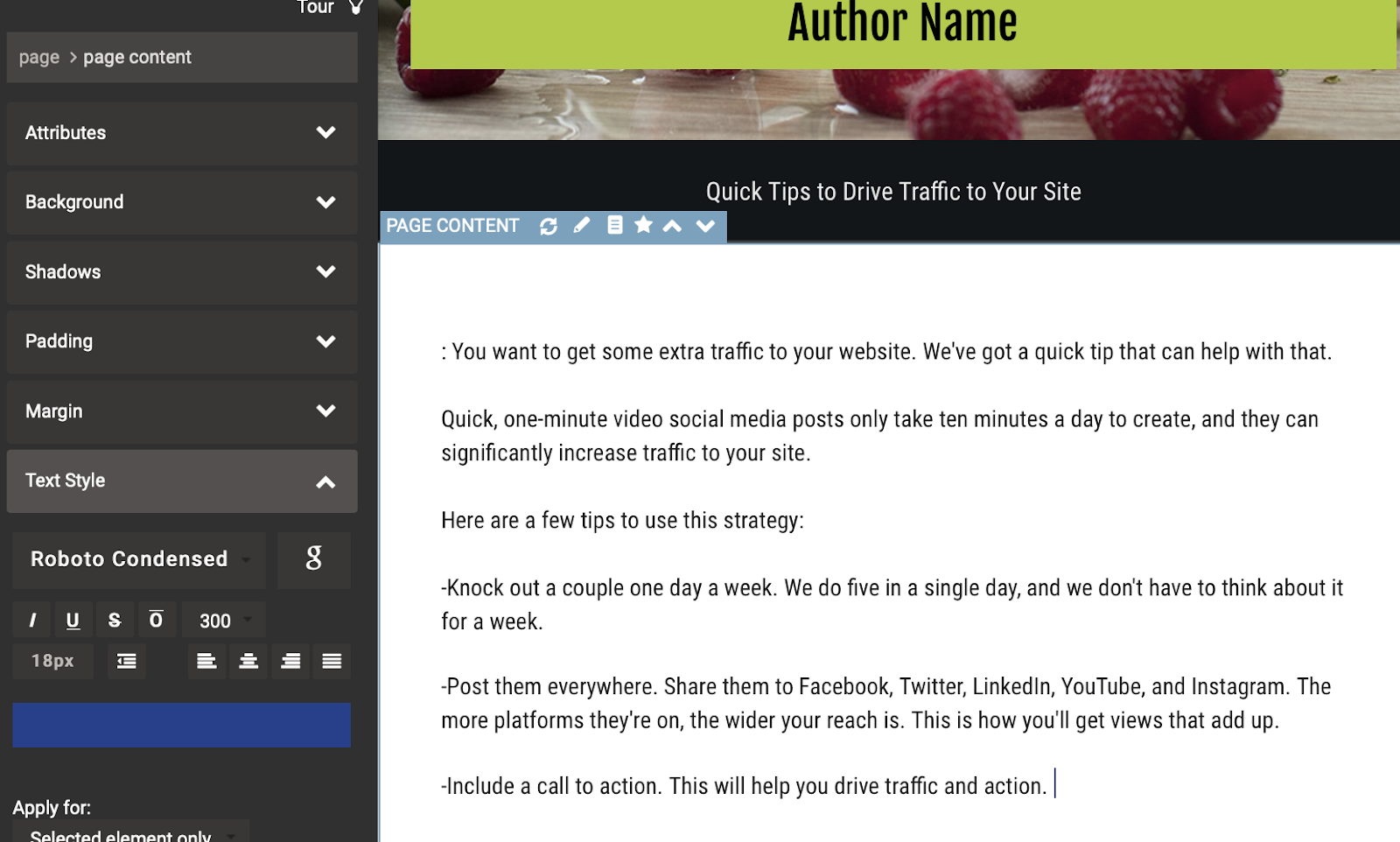 After you have the text exactly as you'd like it, choose a template for the lead magnet or blog post. Every single one is fully customizable; they even have background patterns and stock photos that you can use.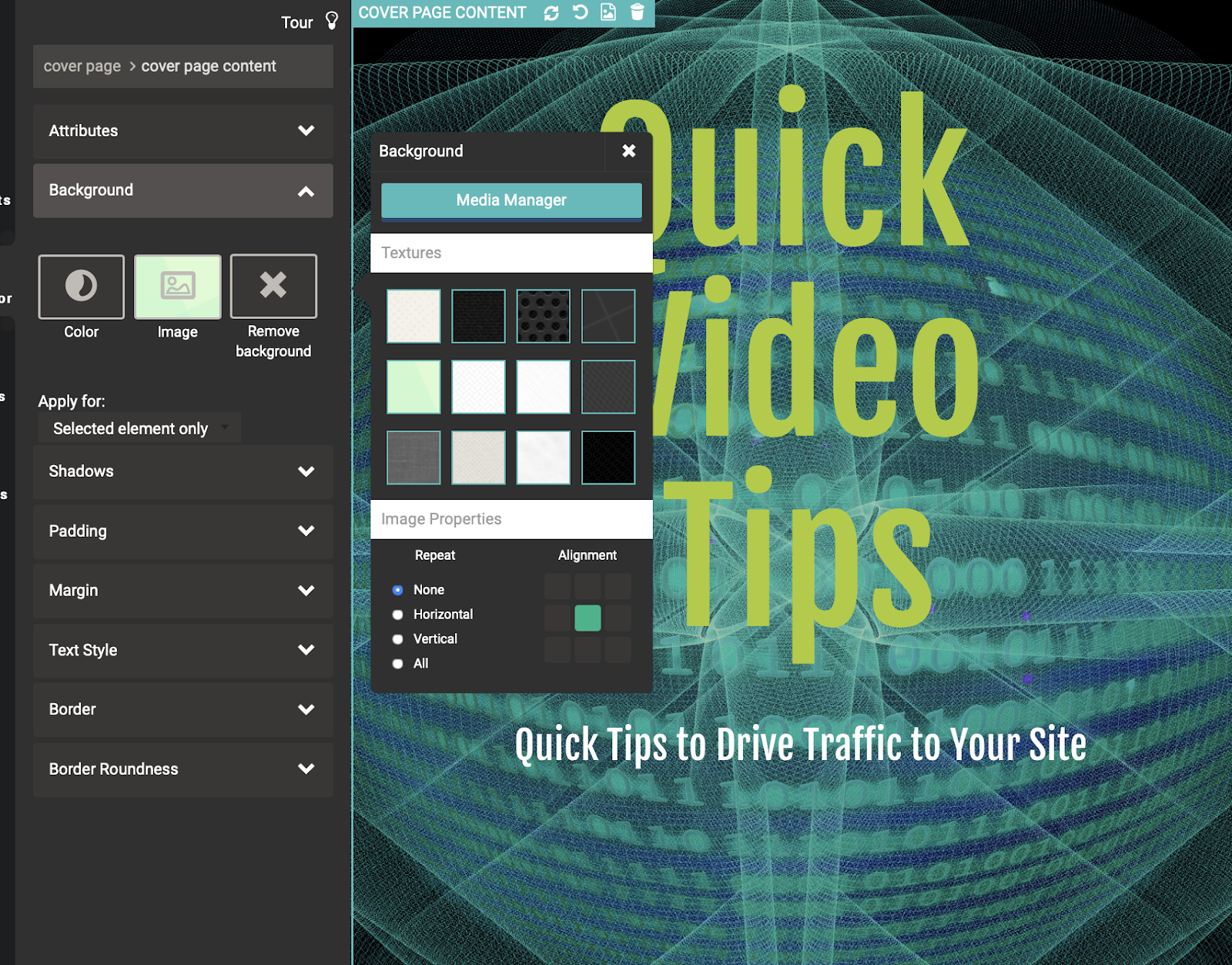 Once you're done, just download it and get ready to start promoting it!
Wondering how to use this feature? Your options are limitless.
The basic use of the technology is straightforward and easy to navigate, but there are so many different options for how you can actually use it. Here are a few of our favorites:
Turn podcast files into blog posts or cheatsheets. Take advantage of those screen transition screenshots to create images you can use in your content. It will also help you see where to break up the content naturally.
Convert your webinar into an ebook. Increase overall conversions by using this repurposed content as a secondary lead magnet and follow up. Ebooks have longer reach and are considered more evergreen, so this will increase your traffic and impact overall.
Create ebooks from training courses. These can be sold or used as lead magnets to drive your audience straight to your paid courses.
Use lectures or coaching calls to create guides. Make the material you've already created work for you, turning active income into passive income by making your training more available to a wider audience.
Build web pages from product training demonstrations. Use your client education and make it available on key pages of your site for easy access.
Automatically Generate SRT Files For All Video Content
SRT files are a must-have feature for all of your video content, because closed captions and subtitles are must-haves if you want to keep your audience engaged. 85% of users actually watch Facebook videos with sound off, and whether that's by choice or necessity, it's always good to make your content more accessible to your audience.
SRT files allow you to add captions to your videos, are superior to text overlay because they're actually readable-- and thus crawlable--by Google. If you want to make your videos SEO friendly, this is how you do it.
They are typically an enormous pain to try to create manually, requiring you to do a lot of pausing and starting with your video while you type out the right phrases and get the timestamps for the video exactly right, so having the ability to have these created instantly is an enormous win.

How to Create SRT Files with Designrr
You'll create the transcriptions for SRT files the same way you start the ebook creation: choose "Import Audio and Video"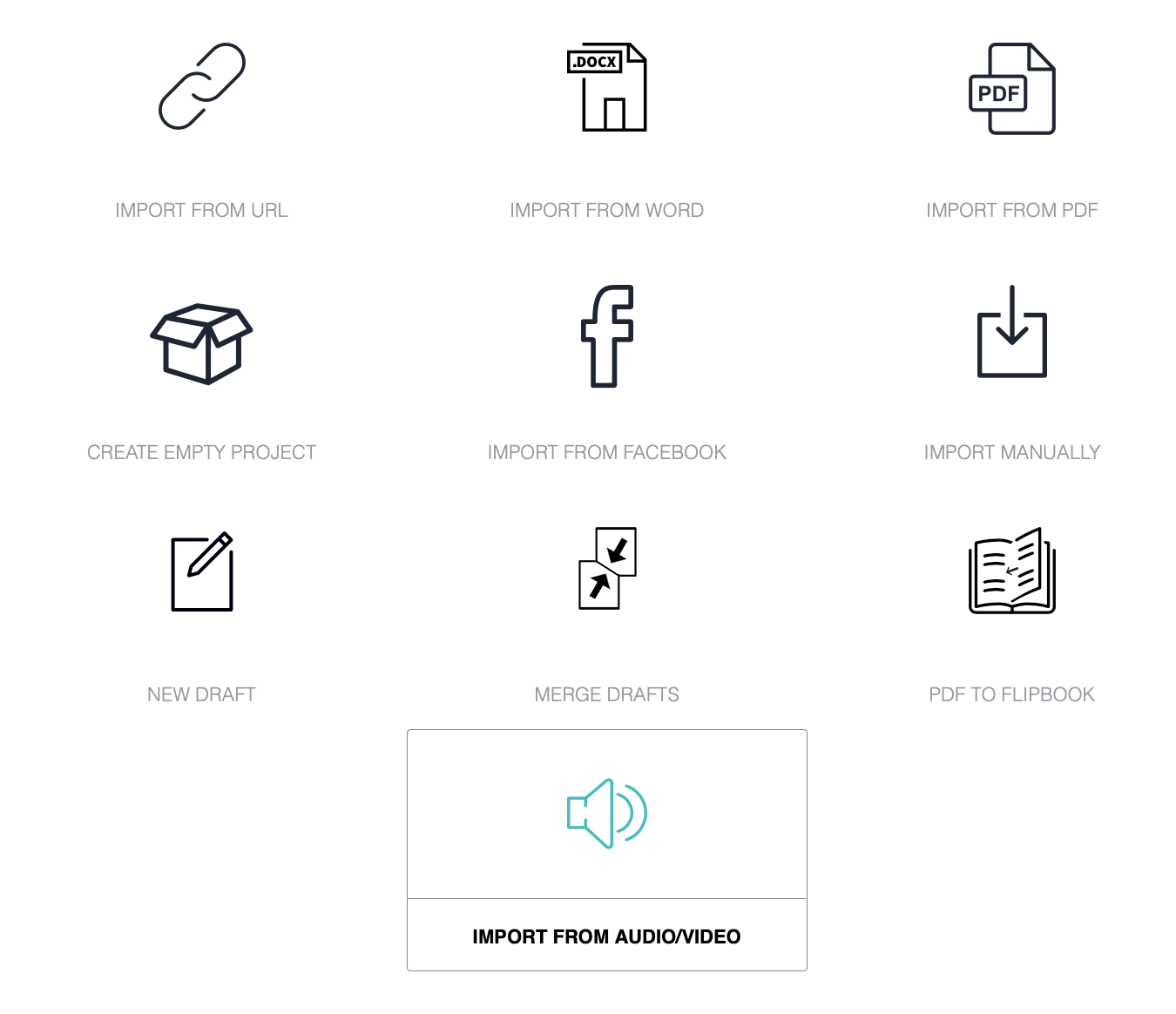 Name the project at hand, and choose the file you want to have transcribed for you. We're using the same video as last time, but showing you how to use it differently.
Once your transcript is ready, you'll be able to review it and make any changes needed before moving on to the next step. This tool is unbelievably accurate, but it's still always good to check for errors or see if you'd want to add in some different punctuation for emphasis.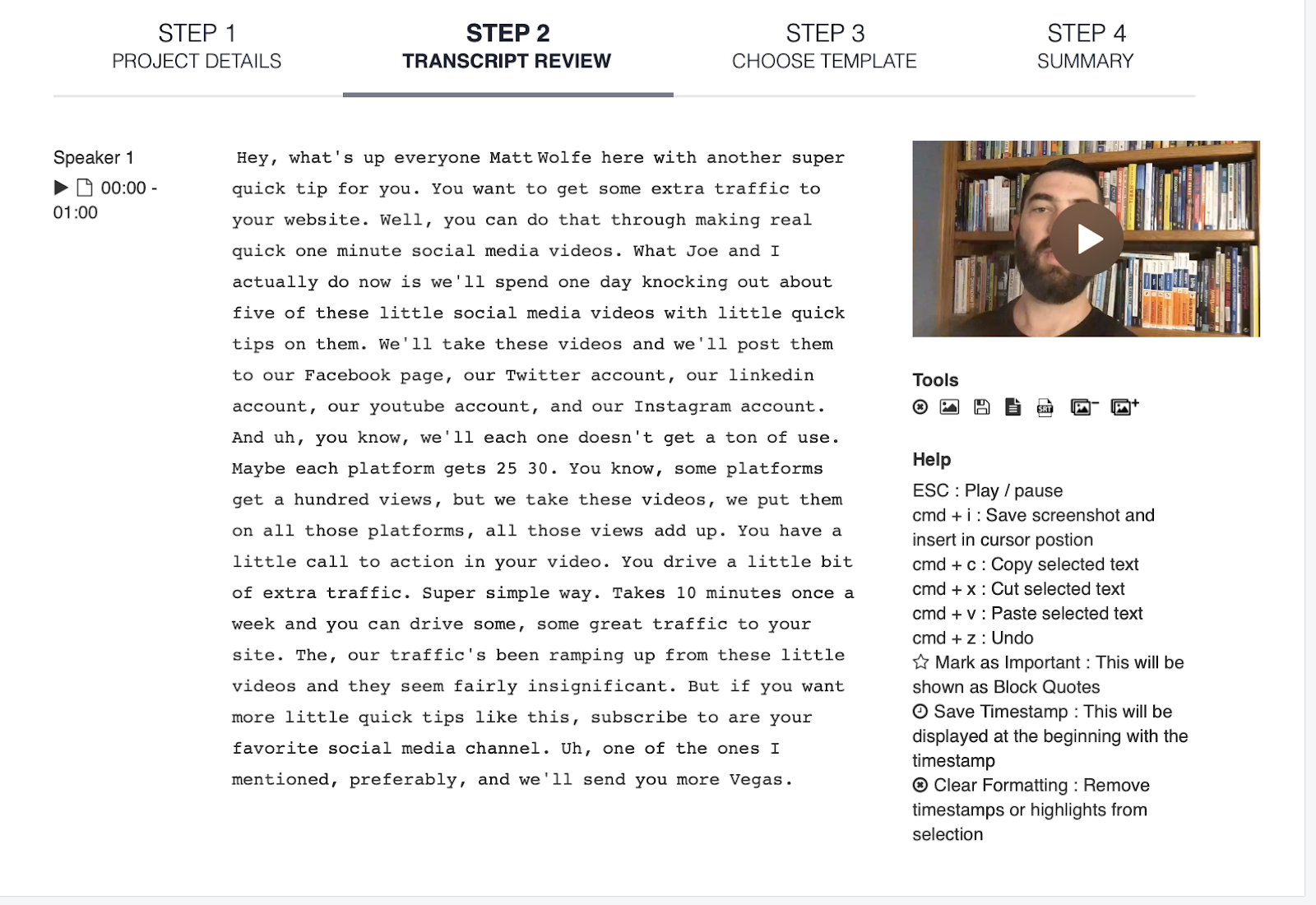 As you play the video, you're actually able to see the transcript highlight the text in real time. Find natural breaks in the speech, and then click enter to start a new paragraph. This will break up the timestamps for each new paragraph, essentially giving you SRT files.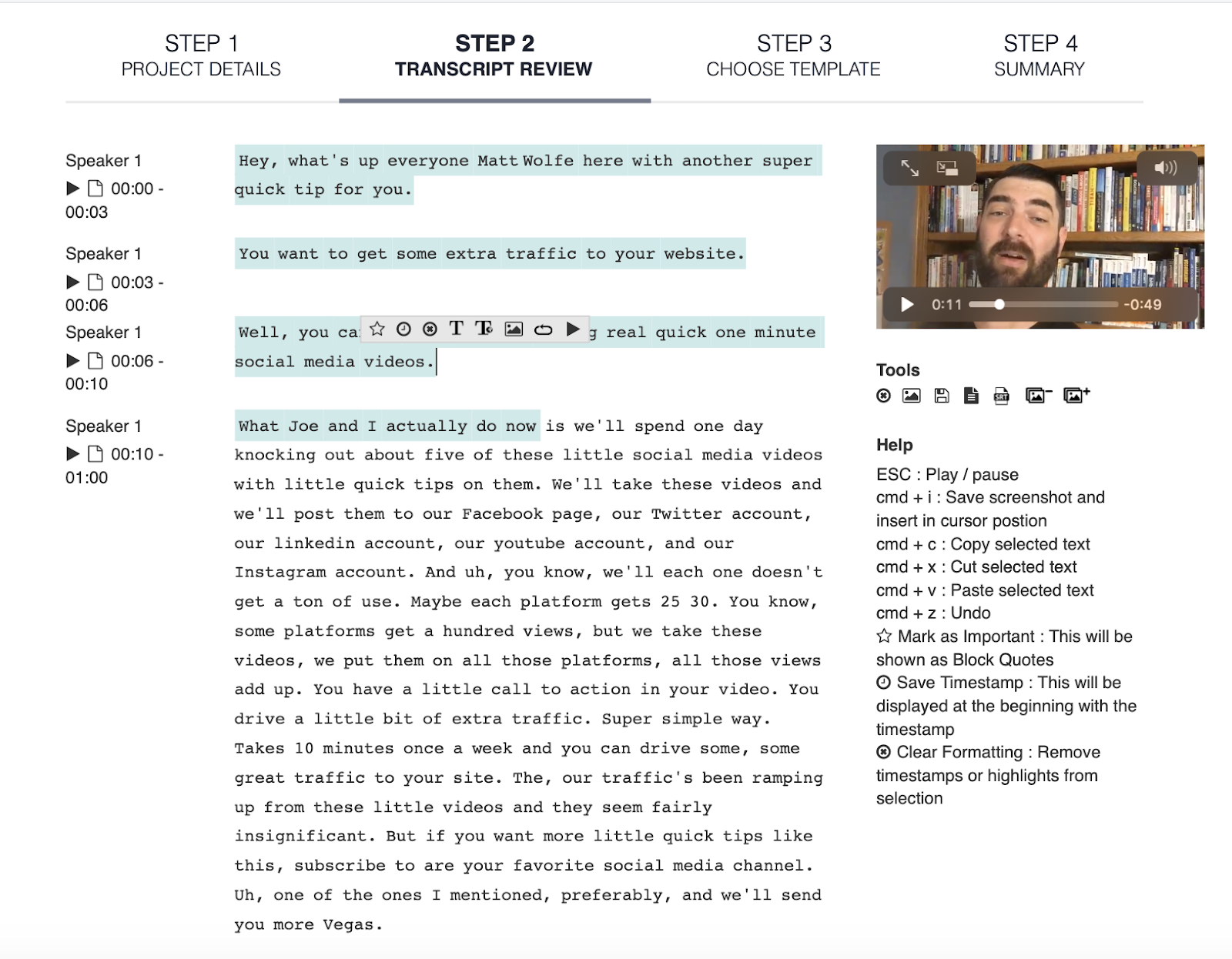 Once you're done, you'll notice a tiny "SRT" file option on the toolbar to the right. When you click it, your audio will be immediately converted into an SRT file that you can upload with all of your videos YouTube, Vimeo, Facebook, and more.

Ready to start repurposing your best content? Now's your chance.
Ready to start Reinventing your best content? Here's your chance!
We believe Designnr is the best tool to quickly repurpose your best content, increase your content production, and save precious time!
You'll attract more potential customers by giving them content in a way they want to consume it
You'll be able to capture more leads with powerful Lead Magnets
And, you'll gain a significant competitive advantage!
Because we appreciate you, we've secured a Special EGP price for the Evergreen Profits community (it took some negotiating, but we made it happen)...
You can get Premium Access to Designnr for $200 off! -> Click Here
(Note: transcription services are only available with Premium or Business Plans)
Ready to reinvent and repurpose your best material? Get started today!